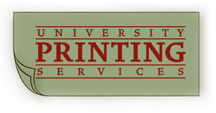 University Printing Services
Helpful hints:
Stapling is found under the "Binding" option.
For a single 1-sided or 2-sided sheet, always select "No Collate".
To save money when doing 2-sided copying, send your order to Printing Services rather than using your department or convenience copier. Our second-side price is discounted. And always choose 2-sided versus 1-sided printing or copying to save paper and printing costs!
If you use our online ordering system to quote a larger color-ink printing job, please check with us because there may be discounts we would apply to the order that do not show up in the quoted price.
University Printing Services provides full printing and bindery services to University department faculty and staff, students, and the general public.
This online ordering system is ONLY available for university departments.
Personal orders for students, faculty, staff and the general public should be dropped off at Printing Services or submitted via e:mail to:

printingdavies@uwec.edu
Services Available:
High speed B&W digital copies

Color copies up to 13" x 19"

Full-Color or B&W up to 42" wide, any length, Large Format

Twice daily free pickup and delivery (campus offices only)

International/US Fax Service (outgoing or incoming)

Scan to e:mail

Graphic Design

Full Bindery Service (collating, booklet making, stapling, buttons, laminating, cutting, etc.)
Order Options for University Department faculty and staff ONLY:
Submit request and file(s) via our website. If you have not registered for online ordering, click on the "

Register for an Account

" link in the "Print Shop Pro WebDesk" box On University Printing Service web page. We will notify you when your registration has been approved

. This online service is free!

Bring document to 105 Davies

E-mail your file to

printingservices@uwec.edu

(PDF preferred; and $1.00 is added is your order is sent via e:mail).

Send request and document through campus mail.
Hours, Location and Phone/Fax Numbers
University Printing Services walk up and department ordering and pick up is located in Davies 105.
Standard Hours:
Monday & Wednesday: 8:00 a.m. - 5:00 p.m.
Tuesday & Thursday: 8:00 a.m. - 6:00 p.m.
Friday: 8:00 a.m. - 4:30 p.m.
Closed weekends

Winterim Hours (1/3 - 1/20):
Monday - Friday: 8:00 a.m. - 4:30 p.m.
Closed weekends

Customer Service/Walk-Up
105 Davies
University of Wisconsin - Eau Claire
Eau Claire, WI 54701-4004
Ph: 715.836.5621
Fax: 715.836.5048

Convenience Copier Program:
Ph: 715.836.6024 or 715.836.5621
Monday - Friday: 8:00 a.m. - 4:30 p.m.

Off-Campus Printing:
Ph: 715.836.3883
Monday - Friday: 7:45 a.m. - 4:30 p.m.
---